Emotional Support Programs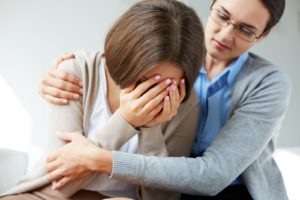 Incarceration often has profound emotional effects on those who are incarcerated as well as their families. When a parent or spouse is literally torn from the fabric of their families, they leave a gaping void and a reeling, fragmented household behind. 
For those behind bars, the results can be devastating. Endless feelings of guilt and remorse, and solitude and failure, combined with harsh, isolating conditions in even the most respectable institutions, can have serious psychological consequences.
For the shattered families left behind, children and spouses are left to grapple with a harsh new reality and the stigma of having a loved one in prison. Added financial stress, along with feelings of loneliness, resentment, shame, and embarrassment, all contribute to the struggles and at times, even the deterioration of a formerly stable family unit. 
Recognizing this challenge, Aleph has consistently developed and expanded our emotional support programs in order to accommodate these individuals and family members.
We currently offer the following emotional support programs:
  Aleph Angels
The Aleph Angels program is a revolutionary program run through Aleph's Family Services Department, which pairs Master's of Social Work (MSW) students who are clinically supervised with individual families to provide emotional support. Our "Angels" check in virtually via Zoom or over the phone each week for an hour with their assigned family members. 

Since the program's inception over two years ago, there have been more than two dozen Angels working on rotation, dedicating over 1,500 hours of their time to connect with both children and spouses on a consistent basis. In total, over 200 family members connect with an Aleph Angel each week.

The impact of this program has been truly remarkable. One participant highlighted the incredible benefits: 

"I want to thank my Angel who has guided me through this challenging transition. I never thought I would be near the end of this difficult time, but my Angel was always available. She didn't judge me or challenge my anger, but listened as I shared my concerns. I feel blessed by the Angels program and wish each mother, spouse, sister, and child can have one, if needed."

*For more information on any of our mental health services to support families, please contact [email protected].
Aleph Visitation Circle (AVC): 
Unfortunately, many incarcerated individuals do not receive any visitors, and the isolation can lead them into deep depression. Through our AVC program, Aleph sends volunteers to visit these men and women on a regular basis, providing them with a sense of dignity, meaning, and companionship. For many, the visit is a highlight that they truly look forward to, and their sole connection to the outside world.

Through AVC, incarcerated individuals can join our Torah on the Phone program, which allows them to study over the phone with a volunteer on a weekly basis. For someone living in the solitude of a prison cell, these study sessions give them a sense of purpose – a necessity that the system so vehemently denies them.

Over the years, Aleph has expanded this program to include volunteer visits not just to federal institutions but also to state-run facilities as well as mental institutions. For some people, the impact of a visit is truly lifesaving:

Following a visit, one person wrote to us

:




"I had a plan in L.A. county jail before I met you. I was going to end my life. Your hugs were a recharge for my soul every single time."

*For more information, please contact [email protected]

In addition to our in-person visitation program, particularly over the last few years, Aleph's Pen Pal program has been a veritable lifeline to countless people whose seclusion behind bars is almost too much to bear. And from the moment they reach out, seeking support from our finely attuned team, we strive to ensure that they will have the opportunity to maintain a continuous and meaningful correspondence via letters or email with someone who who can offer an encouraging Torah teaching, a sense of community and belonging, and ultimately, provide a glimmer of hope for a brighter future.  
Family Support Groups: 
Feelings of abandonment and loneliness prevail among the spouses of incarcerated individuals. Aleph's Family Services hosts multiple virtual and in-person support groups where spouses of the incarcerated can share their experiences, provide empathy, and support each other emotionally. We also have a private Facebook group where members can ask questions and exchange advice pertaining to having a loved one in prison.
Grants to support mental health treatment
For many who so desperately need it, particularly a spouse or parent when the primary breadwinner is incarcerated, or a young adult struggling with addiction or mental health issues that may risk contact with the justice system, costly mental health treatments are beyond their means. In such situations, Aleph reviews individual need and is able to offer limited financial assistance, based on available resources.
General Support and Guidance
Aleph's Family Services team is always available for these families in crisis. Whenever the phone rings and someone is crying out for help, even in the dead of night, our dedicated staff will always answer. We lend a sympathetic ear, offer words of encouragement, and provide practical support and advice.  
Family and Individual Therapy
Families with loved ones in prison often grapple with severe mental and emotional health struggles. When available, Aleph provides financial assistance for families and individuals who need therapy in order to cope.