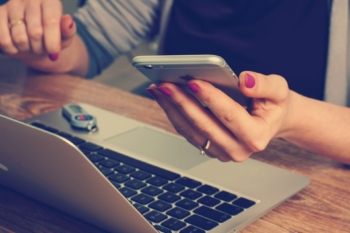 Beth* squeezed her fists tightly as she stared at the phone on the counter. A voice in her head said: "Call Aleph! Ask for help. You desperately need it." But another voice fought back, telling her: "You're weak if you ask for help."
As she was debating, the phone in front of her suddenly began to ring. "Hi, I'm calling from the Aleph Institute's Family Services. I wanted to find out if we can help you in any way."
Beth's jaw dropped in shock.
Beth's husband had been sent to prison for committing financial fraud. The family had previously lived in the upper class sector of Brooklyn, but without her husband's income, Beth was forced to uproot her three young daughters and move them to a tiny bungalow in upstate New York. Beth found a job and worked full time to try to make ends meet. Still, despite her best efforts, there was never enough food for dinner, heat in the winter, or air in the summer. 
When Aleph's Family Services Department called Beth on that fateful summer day, they immediately offered to send her daughters to camp. After months of being exhausted and overworked, Beth finally had a break. And the children, who had spent the weeks after school's finish staring at the TV screen, were delighted to find themselves in a fun-filled, action-packed environment for a few weeks. "That phone call was a miracle, plain and simple," Beth says. "And Aleph somehow made me feel like I was doing them a favor by letting them help!" 
That first call was followed by many more. "Sometimes they would call to ask me what they could do to help. Sometimes simply to ask 'How are you?'"
During the most difficult period of her life, the emotional support Aleph provided became a pillar for Beth's survival. The Aleph Angels Internship Program connects social work students with family members of incarcerated individuals. Beth and her two daughters were each introduced to their own Aleph Angel who checks in with them via FaceTime or over the phone for one hour each week. Beth's heart leaps with joy every time she passes by her girls' room and hears them discussing their dreams and goals on FaceTime with their Aleph Angels.
With the help of G-d, Aleph was able to advocate for Beth's husband's release during Covid due to his high risk of infection, and Aleph continues to provide endless support to Beth and her family.
https://aleph-institute.org/wp-content/uploads/2022/07/woman-holding-phone-e1658412000803.jpg
233
350
SOcial Media
https://aleph-institute.org/wp-content/uploads/2016/01/logonew-300x149.jpeg
SOcial Media
2022-07-21 14:08:21
2023-04-21 16:04:58
A Miraculous Phone Call